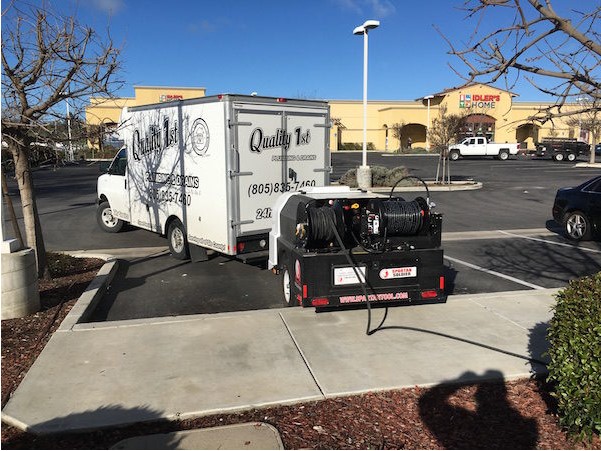 Quality 1st Plumbing and Drains announces expanded plumbing services
-Paso Robles-based Quality 1st Plumbing & Drains recently announced that the company utilizes sewer camera inspections and hydro jetting for repairing San Luis Obispo County customer plumbing problems. These technologies speed up the inspection and troubleshooting process and can remove obstructions from drains much faster than traditional methods.
Faster inspections and troubleshooting and speedy drain clearing add up to less time spent on those jobs and cost savings to the customer. The leading technologies include:
Sewer camera inspections utilize a small, specially designed camera connected to a flexible cable. As the camera is inserted into the pipes through the main sewer cleanout, it sends video images back to the operator. Blockages and other problems in the pipeline can be instantly diagnosed. The camera removed all of the guesswork about where a blockage might be and what it is.
Hydro jetting is a method that uses high water pressure to blast away blockages in plumbing lines. It's highly effective for quickly cleaning pipes, including getting rid of tree roots. Using a hydro jetting machine, Sky Sepulveda, owner of Quality 1st Plumbing, can blast water at pressure up to 3000 psi to remove blockages for his San Luis Obispo County hydro jetting customers.
The combined use of sewer camera inspections and hydro jetting saves considerable time; resulting in savings passed on to the customer. These two high-tech tools reduce the messes and damage to landscaping caused by digging and trenching. If the camera discovers a pipe needing repair or replacement, the plumber knows exactly where the problem is located, eliminating guesswork. Any digging that might be needed is minimal and the onsite Quality 1st team makes sure the site is cleaned up after the job is done.
The benefits of camera inspections and hydro jetting for San Luis Obispo County customers are part of the services offered by Quality 1st. Sepulveda has established professional relationships with homeowners, businesses and property management companies throughout San Luis Obispo County. He stays on top of up-to-date plumbing technologies, bringing the most cost-effective prevention and maintenance solutions to Quality 1st customers.
Serving San Luis Obispo County since 2003, the locally owned and operated company takes pride in quickly solving plumbing problems. The services include:
Tankless water heater installation.
Reverse osmosis water systems.
Water softeners.
New plumbing and fixtures for the kitchen, bathroom, or laundry room.
Plumbing inspections, troubleshooting and repairs.
New plumbing construction.
Delivering a high level of customer service is a priority for the San Luis Obispo County hydro jetting company. Showing up on time, with a fully-equipped truck, and cleaning up when the job is done is the Quality 1st commitment to excellent service, along with:
Consultations.
Free estimates.
Fair and competitive pricing.
Sepulveda takes pride in his 20-year commitment to excellent plumbing services.
Quality 1st Plumbing And Drains
1006 Par Ave
Paso Robles, CA 93446
(805) 835-7460